---
Our international division is setting up a new warehouse.
HIGASHI 2081 15A and 16, ITOSHIMA, FUKUOKA, JAPAN
https://goo.gl/maps/ZYaZTxqBGmTDD8DN8
We are in a rush to move. Haha! So messed up as the photo. Arigato for your support!
Hiroaki Jinguji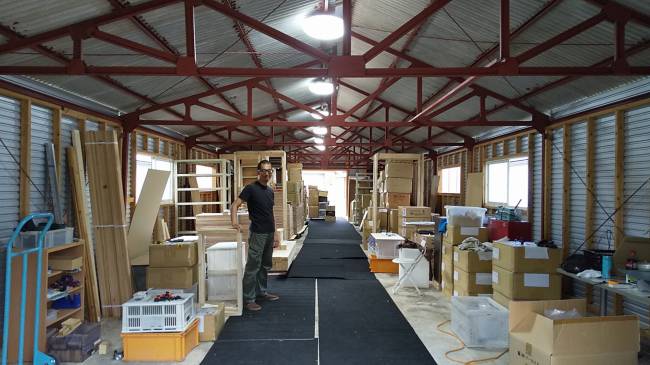 ---
RS at a glance.

Established in 1982.
President and C.E.O Mr.Norito Jinguji.
Headquarter located in Fukuoka (5th largest city in Japan), island of Kyushu in south Japan.
Official distributor of the biggest Japanese amusement machines makers as Sega, Namco, Taito or Capcom to mention a few.

Business lines:
New and used amusement machines (videogames, kiddies rides, price machine, sport machines, etcc)
Spare parts and repairs (with several technicians, some of them English speaking)
Amusement machines developer (in collaboration with Taiwan and Korean companies)
Own operations. Arcade Centers in Fukuoka, Kurume and Okinawa

RS is a long time member of JAMMA (Japanese Amusement Machine Manufacturer Association) and our President is a founder member as well as Chairman of Overseas Division of JAMMA.
RS attends all the major shows in Asia and have long time relations with the main companies of the industry in the Asian-Pacific region as well as in other countries like UK, France, Spain, Italy, Austria, Dubai , USA or Australia to mention a few.
This is one of the reasons RS knows always the most new products and have a large of exclusive products for distribution

Currently, RS have itfs headquarter in Fukuoka, it comprises an office with technical lab, around 400 sq.meters, plus a warehouse of 1,500 sq.meters.
RS also have branch offices in the following cities of Japan: Tokyo, Osaka, Saga and Okinawa

1. Games and After Service
In our warehouse we have the most popular games in Japan, whether new or second. If we do not have the game you need we can easily find it as we work with most of the game centers throughout the country.
Also, when we have a special offer we inform immediately to our customers, normally these offers are extremely good deals.
We know customer service is very important and we give priority to our customerfs satisfaction by answering immediately their request.
We repair all machines as well as we have most of the spares parts. We can proudly say that RS after service works with the typical Japanese efficiency and quality.

=============== Laboratory next room of headquarters ===============
=============== Office and Delivery Tracks ===============
---